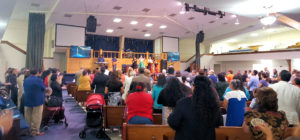 The Texas Gulf Hispanic District Council was held in June 2016 in the Valley in the city of Weslaco, Texas, in the beautiful facilities of Templo Ebenezer A/D church under the leadership of our dear friend Dino Espinosa who has so capably served the District since its inception. We were greatly blessed by the ministry of the worship team and the anointed ministry of the General Superintendent of the Assemblies of God of Mexico, Rev. Abel Flores Acevedo. Brother Flores informed us that there are now over 8,000 churches of the A/G in Mexico! Praise the Lord.  Rev. Eddie De La Rosa was newly elected as the District Superintendent, Rev. Rick Reyes as the new Asst. Superintendent and Director of Missions for the District and Maricela
Hernández was re-elected as Secretary-Treasurer.
We were honored to be able to address the congregation at the Missions Banquet along with two other missionary units. We felt a wonderful response and deeply appreciate all of the support that our ministry receives from the churches and pastors of this great District!