On Sunday morning August 28th we had the honor of filling the pulpit at First Assembly of God in Giddings, Texas, while the pastors were away on a well-deserved vacation. We preached a missionary sermon and represented our ministry and need as well as the inspirational accounts of what God is doing in various parts of the world including Cuba where Global University has enrolled over 4,000 ministers in our B.A. in Theology program. Cyndie shared in Children's Church and there was a precious response. This
church is one of our faithful supporters and partners in missions. After church the missions director and her husband along with a wonderful couple who are in leadership in the church took us out and treated us to a terrific Mexican meal at Los Patrones in Giddings. We had a very enjoyable time of sharing and fellowship.
We then proceeded to Austin, Texas, to Hornsby Bend A/G where Carl & Loretta Goericke serve as senior co-pastors. Although not a large church, they support our ministry monthly, and they invited us to share in a missions "window" in the middle of their Sunday night Sing-along and a pot luck supper afterward. We arrived 2 hours before the service where they received us with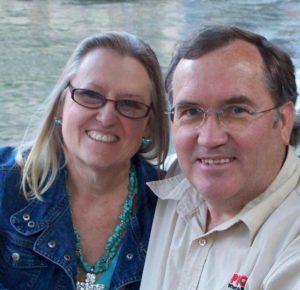 open arms and we had a delightful time sharing and resting before the service. Thank you Hornsby Bend A/G and pastors Goericke. This  church has supported us most of our 44+ years as foreign missionaries. The amount has not been much, but over the years it has amounted to a treasure and the prayers support and friendship is priceless!