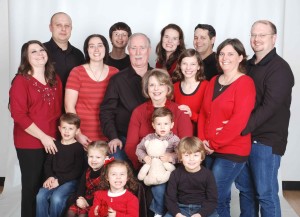 We are very thankful to the Lord for our wonderful heritage. Don's parents were missionaries for many years. Don's Dad, Hugh P. Jeter first arrived in Peru in 1932. His first wife died of tuberculosis contracted in Peru without having children. Later, Hugh married the wonderful woman who would be Don's Mom. They moved to Cuba in 1941 where Hugh served as General Superintendent of the A/G until 1952. Don and his three brothers were all born in Havana, Cuba.
Don's paternal grandfather was a Moody Bible Institute graduate and a Presbyterian home missionary. Together with his wife (a college graduate) they started a high school in northwestern Arkansas. Later, J.E. Jeter served as the first Principal of Southwestern Bible Institute when it was started by P.C. Nelson in Enid, Oklahoma, in 1927. His wife served on the first faculty.
In 1952, after serving in Cuba, Don's Mom & Dad served in Spain and Morocco as missionaries before coming back to
the U.S. and serving as the Chairman of the Missions Department and bookkeeper at Southwestern A/G University for 17 years. They later served for many years at the Southern Arizona Bible College. Dad Jeter was a much loved and respected Bible teacher at University Assembly of God in Waxahachie, Texas. He passed away in his home at the age of 93. Mom Jeter turned 100 in November 2011 and presently lives with Don's oldest brother Stan and his wife Rhoda in Virginia Beach, Virgina.
Cyndie is an R.N. (registered nurse), born and raised in Minneapolis, Minnesota. She graduated from Coon Rapids High Schoolin 1966. Cyndie is of Swedish origin. She graduated from the prestigious Swedish Hospital School of Nursing in Minneapolis and attended North Central Bible College. Cyndie and Don were married in Minneapolis in 1969.
Cyndie has been licensed as an R.N. variously in Minnesota,Florida,North Dakota and Texas, Cyndie has been able to put her nursing skills to good use at home and on the field. She also helps women in seminars and one-on-one, touching on subjects as inner-beauty along with instructions on hygiene, dietary advice, makeup and wardrobe tips designed to help a woman be healthy, feel good, and feel good about herself, resulting in more effective Christian service.
In our church in Alcaclá de Henares, Madrid, where we served in leadership, Cyndie had an invaluable ministry of personal counseling/mentoring, and championing the cause of intercessory prayer. Our truly Pentecostal mid-week and Friday prayer services are a key to spiritual success and growth in the church which has tripled in size. You can keep in tune with her on Facebook or her blog on this site. Both of Cyndie's parents and her youngest brother passed away. They all loved the Lord and are in heaven, though they are deeply missed. Don's mother, Gertrude Jeter, passed away in January 2013 at the age of 101 yrs.
We are proud of each one of the 4 children and 10 grandchildren that God has given us. You can read more about them on this site under their separate listings.